A sophisticated scam targeting homebuyers robbed a couple of their life savings, and real estate experts say everyone shopping for a place to live is at risk.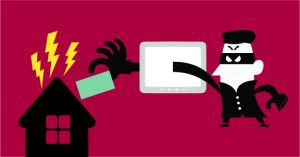 NBC Bay Area spoke with multiple homebuyers who fell victim to the same scheme: hackers, intercepting emails and spoofing agents, conned them into sending their down payments to the thieves' bank accounts. By the time the victim realizes what has happened, the money — and the crooks — are long gone.
Among the victims is Cindy Bernal. The San Jose grandmother told us she has had enough of the cost of living in the San Francisco Bay Area.
"Our rent is currently $1,500," she said. "They're going to raise it up, double."
Cindy's daughter and grandchildren live in Ohio, where housing is substantially cheaper. She found an ideal new home for herself and her husband: a three-bedroom, 980-square-foot house south of Cleveland. The asking price: about $28,000. Not enough for even a down payment in much of Northern California, but typical of the rural Midwest.
"I put in an offer the same day with the agent, and that was it," Cindy said.
To Cindy's delight, her offer of $25,400 was accepted. She decided to pay cash — one payment, with no mortgage — and it came from her retirement savings.