Maybe the Dallas area has more of a shot at HQ2 than some might think.
Dallas, along with New York City and Crystal City in Northern Virginia, were named as three regions getting attention by the online retailing giant in a report by The Wall Street Journal. The story came out a day after The Washington Post pointed to Crystal City getting strong interest from the Seattle-based tech giant.
After that story, an Amazon economic development director tweeted a warning to anyone leaking information about HQ2's site selection.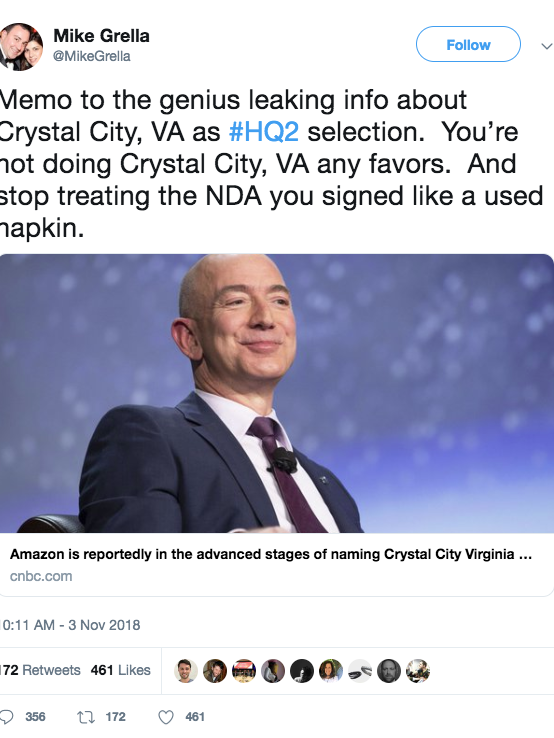 Amazon (Nasdaq: AMZN) progressed to late-stage talks on its planned second headquarters with a handful of communities including the three, according to the story, which cited people familiar with the situation.
A group of developers in Dallas recently purchased property on a site earmarked for Amazon, the story said. The piece cited the city's lower cost of living, along with "public-private partnership incentives, in the form of tax abatements, grants, infrastructure cost sharing, and other methods to offset project and operational costs" as luring the massive second headquarters. Texas has also been hailed as a top place to do business because it doesn't have personal income taxes.
One potential locale in Dallas, should HQ2 land in the region, is a 7.2-acre site formerly home to the Dallas Morning News, which sold last week for $33 million to a group of Dallas developers, the WSJ reported. The property is near the Dallas Union Station light rail and Amtrak station, and adjacent to the intersection of interstates 30 and 35, satisfying a core preference for Amazon to be in a well-connected urban location.
Here are 10 other North Texas locations that have been primed as HQ2 sites:
By Brian Womack  – Staff Writer, Dallas Business Journal